0
(No Ratings Yet)
Loading...
Stream in HD
Download in HD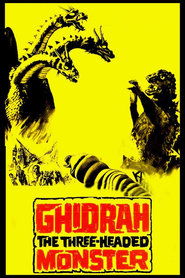 Ghidorah, the Three-Headed Monster
The 5th film in the original Godzilla franchise marked a turning point in the series. Godzilla, Rodan and Mothra must put aside their quarrelsome ways to become allies and defend earth from 3 headed Dragon King Ghidorah.
Duration: 85 min
Quality: HD
Release: 1964
HD
Miss & Mrs. Cops
Miss & Mrs. Cops
HD
Once a legendary detective and a new mom, Mi-young, now works a desk job. But when overenthusiastic newbie Ji-hye is assigned to Mi-young's civil complaints team, the two female cops…
HD
Death Wish
Death Wish
HD
A mild-mannered father is transformed into a killing machine after his family is torn apart by a violent act.
HD
Mr. Nice Guy
Mr. Nice Guy
HD
A Chinese chef accidentally gets involved with a news reporter who filmed a drug bust that went awry and is now being chased by gangs who are trying to get…
HD
The Angel
The Angel
HD
True story of Ashraf Marwan, who was President Nasser's son-in-law and special adviser and confidant to his successor Anwar Sadat – while simultaneously Israeli Intelligence's most precious asset of the…
HD
Betrayed
Betrayed
HD
In an effort to control the city the Mayor opens the doors to the Russian Mob. It is not long until he realizes they aren't going to follow his rules….
HD
Dead Ringer
Dead Ringer
HD
A modern day version of The Prince And The Pauper where one man from a poor background ends up taking over another mans life from the entirely opposite end of…
HD
Reign of the Supermen
Reign of the Supermen
HD
In the wake of The Death of Superman, the world is still mourning the loss of the Man of Steel following his fatal battle with the monster Doomsday. However, no…
HD
Robin Hood
Robin Hood
HD
A war-hardened Crusader and his Moorish commander mount an audacious revolt against the corrupt English crown.
HD
Dragon Ball Super: Broly
Dragon Ball Super: Broly
HD
Earth is peaceful following the Tournament of Power. Realizing that the universes still hold many more strong people yet to see, Goku spends all his days training to reach even…
HD
Bad Company
Bad Company
HD
When a Harvard-educated CIA agent is killed during an operation, the secret agency recruits his twin brother.
HD
Amar Akbar Anthony
Amar Akbar Anthony
HD
Amar Akbar Anthony is an upcoming Telugu film co-written and directed by Srinu Vaitla which features Ravi Teja and Ileana D'Cruz in the lead roles.
HD
Kingdom of Heaven
Kingdom of Heaven
HD
After his wife dies, a blacksmith named Balian is thrust into royalty, political intrigue and bloody holy wars during the Crusades.