0
(No Ratings Yet)
Loading...
Stream in HD
Download in HD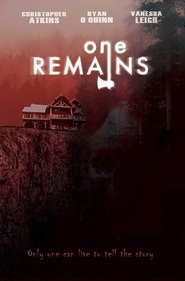 One Remains
When a group of filmmakers trek deep into the woods to investigate a missing persons case, they inadvertently start a chain of events that lead to horrific consequences.
Duration: 90 min
Quality: HD
Release: 2018
HD
DeadTectives
DeadTectives
HD
A team of reality TV paranormal investigators go to Mexico's most haunted house in the pursuit of better ratings. However, when the true dark secrets of the mansion begin to…
HD
Airaa
Airaa
HD
A young woman encounters a supernatural presence in her grandmother's home.
HD
Sisters
Sisters
HD
Inquisitive journalist Grace Collier is horrified when she witnesses her neighbor, fashion model Danielle Breton, violently murder a man. Panicking, she calls the police. But when the detective arrives at…
HD
The Black String
The Black String
HD
When a suburban slacker has a reckless encounter with a mysterious woman, his life begins to unravel in horrific fashion. His friends and family believe he's losing his mind, but…
HD
Parasyte: Part 2
Parasyte: Part 2
HD
Alien pods come to Earth and, naturally, start taking over Human Hosts. One such pod only manages to take over one human's, Shin Izumi, right arm. Together they grow and…
HD
Cargo
Cargo
HD
After being infected in the wake of a violent pandemic and with only 48 hours to live, a father struggles to find a new home for his baby daughter.
HD
Constantine: City of Demons – The Movie
Constantine: City of Demons – The Movie
HD
A decade after a tragic mistake, family man Chas and occult detective John Constantine set out to cure Chas's daughter Trish from a mysterious supernatural coma. With the help of…
47 Meters Down: Uncaged
47 Meters Down: Uncaged
A group of backpackers diving in a ruined underwater city discover that they have stumbled into the territory of the ocean's deadliest shark species.
HD
Ruin Me
Ruin Me
HD
Alexandra reluctantly tags along for Slasher Sleepout, an extreme event that is part camping trip, part haunted house, and part escape room. But when the fun turns deadly, Alex has…
HD
The Little Stranger
The Little Stranger
HD
In a dusty post-war summer in rural Warwickshire, a doctor is called to a patient at lonely Hundreds Hall. Home to the Ayres family for over two centuries, the Georgian…
Dark, Deadly & Dreadful
Dark, Deadly & Dreadful
Fun Size Horror Presents "Dark, Deadly & Dreadful", an anthology of short films from Fun Size Horror's community of filmmakers. Each film explores different themes in the horror genre all…
HD
Sick For Toys
Sick For Toys
HD
"Roy (David Gunning) is the nice guy who finishes last. Sick of his current situation, he accepts an invitation to have Christmas dinner with the beautiful and strangely alluring Emilia…